Maybe you have seen several videos or so about how to cut a pineapple. If you haven't good. This is the bestestest way to cut a pineapple. I don't like to cut the shell/skin thingy off from outside to inside, too complicated! ?
In case you want to grow your own pineapple, all you need is a pineapple. Look for one that has a dark green crown, meaning it's not dried up. It also should smell like pineapple already, which means it is ripe. Only the intact crowns from ripe pineapples really grow roots – as of my own experience – so please pick a nice pineapple. If you are smart (and as my follower you must be smart) … you also pick a real sweet type. Some are rather sour even if they write "extra sweet" on the label. If you found your perfect pineapple, let's go……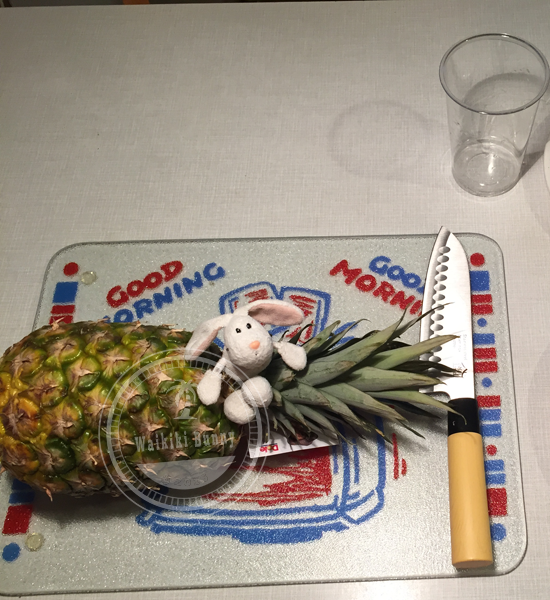 YOU NEED:
a pineapple
a BIG sharp knife
a small sharp knife
a cup to put in the crown
a plate (if you wanna serve the pineapple)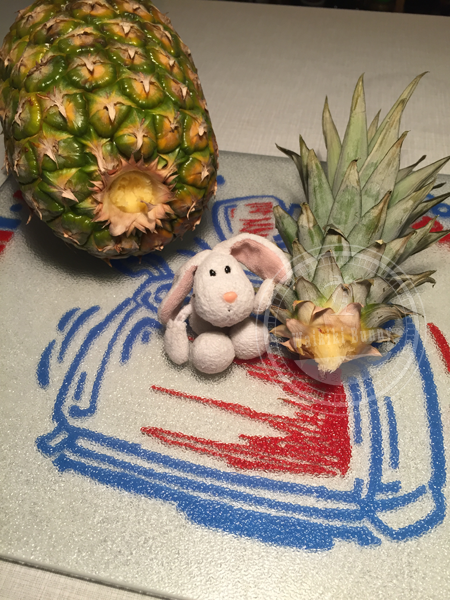 Twist the crown off the body of the pineapple. Put it aside we will take care of it later.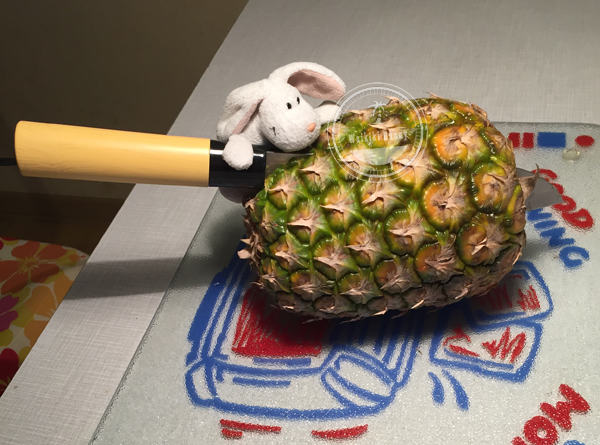 Now cut the pineapple into half. And then cut each half again. If your knife is blunt, this will be super hard.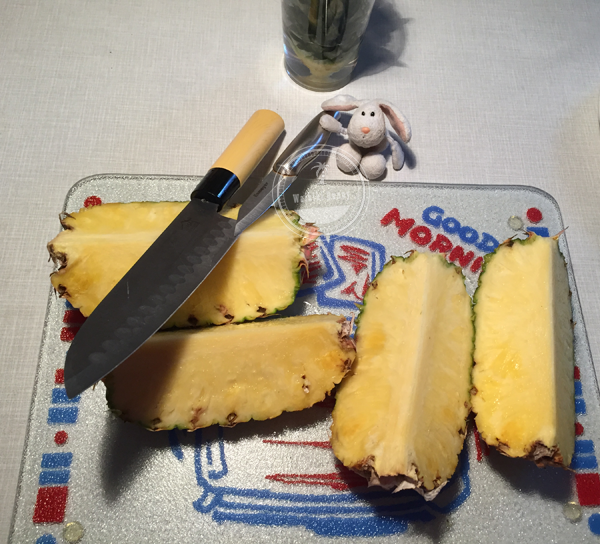 The core in the middle can be very woody – you don't wanna eat that – so remove it (its usually a bit lighter in color than the rest)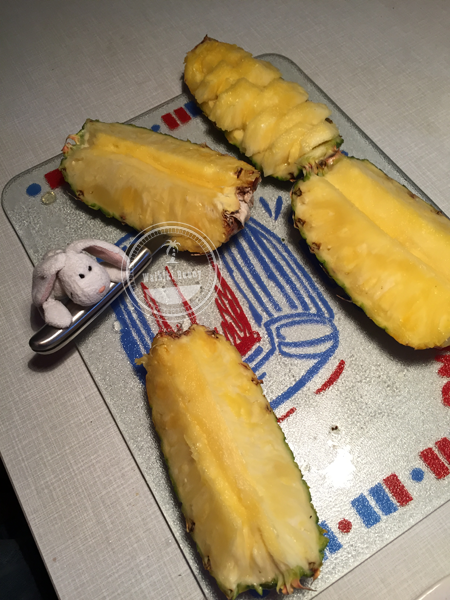 now you can loosen the flesh of the peel by sliding along the botton, not too close to the peel thingy as it has eyes, and you can't eat them either ?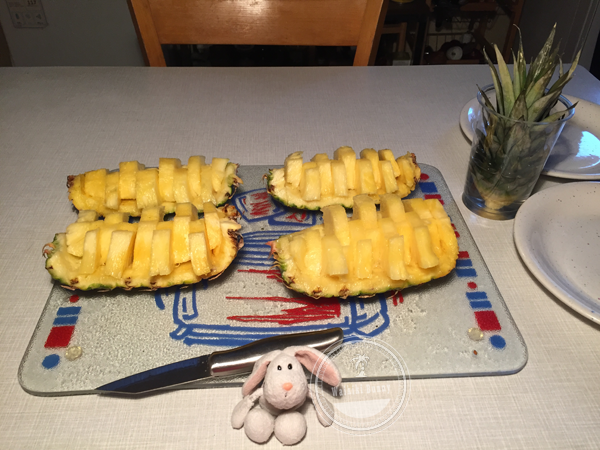 after that you can cut little pieces like I did and even move them a little, so it's looking fantastic. If you just wanna eat the pineapple on your own, you don't need to do that *tehehee* but it looks nicely when you have guests.
Ok now munch a bit of pineapple, we need to take care of the crown now.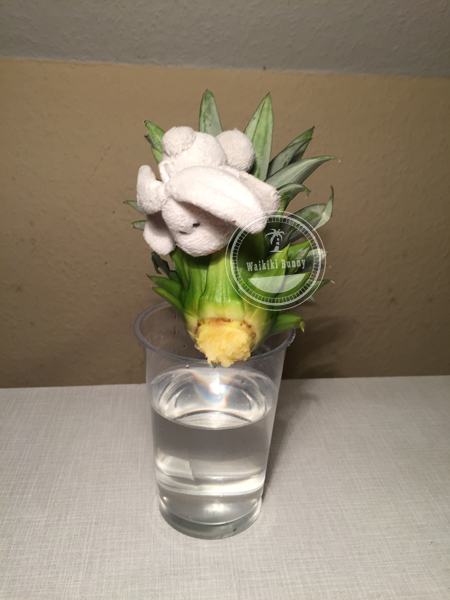 if the crown had brown or yellow leafs, rip them off. My crown now looks like this. I put it in a cup filled with water. You should check the water at least every 2nd day. Some suggest to not change the water, but it can be really smelly. I use to change the water. Put the cup at a warm place. Temperatures should be between 18.5° –  26°C (65°–79°F). Yes Texas has excellent weather for this (Hi Hope!)
When you see roots, time to plant your plant into soil. I use regular soil and I fertilize my pineapple plant ever 2 months or so. I didn't before and they died ….*sniff*. So I guess my soil wasn't as good as I thought. In Hawaii the ground is Volcanic and contains lots of Iron. I use normal plant fertilizer. ?
In summer I put them in the greenhouse. And I use to spray water on the leaves in the pm, also water it in the pm. In winter my pineapples are living on the radiator ?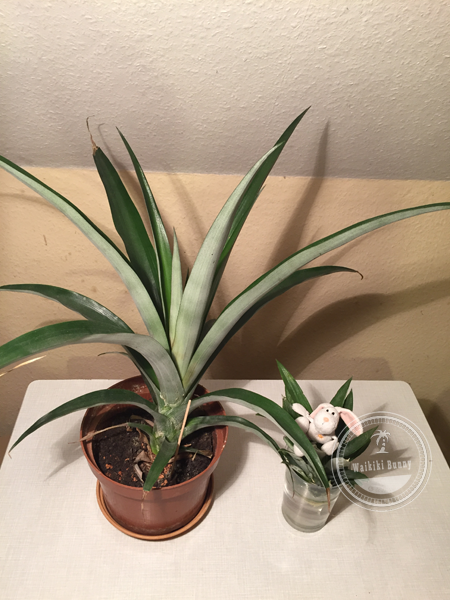 The left plant is from last year, the right one from today. Even in the bestestest surrounding a Pinapple can take 2 years or more to grow a fruit. So don't give up too early.
And now a few pictures from Dole plantation on O'ahu.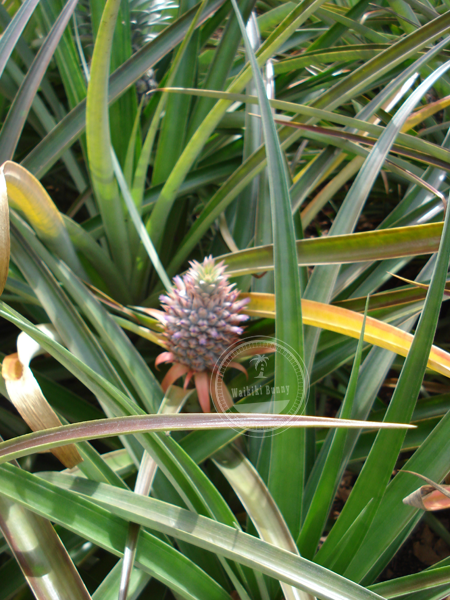 There it's a baby!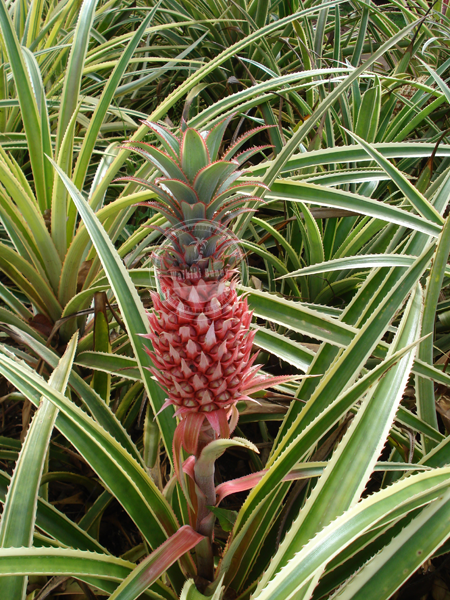 I can hardly wait for my pineapple to look like this!

IF I lived in Texas (Hi Pat) my backyard would look like this *giggle*
NOW GOOD LUCK………….try it! You have nothing to lose! ❤